Rinnai V65iN Tankless Water Heater Review

Is it a Good Tankless Water Heater?
I have owned a few Rinnai water heaters over the years including the theV65iN, and I can tell you that Rinnai is one of the best tankless water heater manufacturers on the market. There are so many features of this water heater that it is hard to decide where to start.Â
The V series tankless heaters are the Rinnai "Value" range of indoor models, they are also intuitively named so that the model name tells you a lot about the unit specifications. V for value, 65 refers to the maximum 6.5 GPM flow rate of the unit, and the "I" lets you know this is an interior so it will need ventilation, "N" is because this is a natural gas unit.
The V65iN can be used for residential water heating purposes and can also be used for central heating however be aware that there is no warranty for installations inside closed-loop applications, including central heating systems. So if you want a water heater for central heating this is probably not going to be your best choice.
Best Overall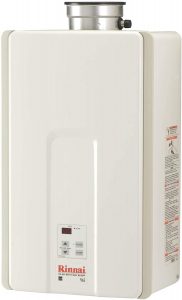 Rinnai V65iN Tankless Water Heater
6.56 GPM 0.82 Energy Factor Rating Gas, Indoor
About this item
Rinnai's V65iN gas-fired tankless water heater is designed to provide you with hot water on demand.
The unit features a high-performance 6.3 GPM flow rate for a powerful, constant stream of hot water and an energy efficient design that conserves energy as it heats only when necessary.
This space-saving model is guaranteed to last 10 years and comes with a 5-, 1-, and 90-day money back guarantee, respectively.
Rinnai V65iN – What We Really Liked
Fast Water Heating
Thanks to Rinnai's highly efficient heat exchangers the V65iN will be at full efficiency almost instantaneously. This saves you on water and gas, it is recommended that the unit is installed close to where you are going to be using the most hot water, usually in the kitchen or laundry.
Very Quiet
One important consideration for an indoor tankless water heater is how much noise it will make, this is even more important if you live in a house where people will be using hot water at unsociable hours. Nothing will cause arguments in a house quicker than when a noisy heater keeps people awake.
The V series are whisper quiet, they make a small amount of noise when the unit is firing up, but once operational you would hardly know it was working.
High Flow Rate
If you have good water pressure then this water heater will provide you with up to 6.5 Gallons of hot water per minute. The average showerhead uses around 2 GPM so this heater will provide enough hot water for 2 possibly three showers, at the same time. But if you have more than one bathroom we would recommend looking a the bigger V75iN unit this heater is quite similar to the Rinnai V65iN , but it has a higher water capacity of 7.5 GPM making it more suited.
Economical and Efficient
This heater has an energy rating of .82 which is average in its class and price range. Even though it doesn't compare well to other heaters of this type, we found that if you simply want a tankless heater for your home or small business, the Rinnai V65iN is still a worthwhile option, it will outperform most others at a similar price point.
Depending on the input water temperature, and temperature output settings of the unit it will use between 10,300 BTU's and 150,000 BTU's of natural gas per hour.
Low NOx Burner
NOx (nitrous oxide NO & NO2) are waste gasses produced during combustion, they are toxic and pollute the atmosphere. The V65iN is SCAQMD Approved and classed as an ultra-low NOx burner which means emissions are less than 14 ng/J or 20 ppm NOx.Â
It achieves such high efficiency by regulating the fuel-air mixture to reduce the overall emissions, making it better for the environment.
Low Water Flow Requirement
Although it can output quite a high volume of water this unit has a very low initial water flow requirement, so it will operate even when the pressure is quite low, or a hot water tap is only running at a medium trickle. The manufacturers quoted range is a low flow rate of 0.26 GPM and a maximum of 6.5 GPM (1.0 – 24.6 L/min)
Simple Digital Temperature Control
No more fiddling with the hot and cold to get the perfect shower temperature, you can simply dial in the desired water temperature and the unit will keep the water coming at the ideal temperature for as long as you keep the tap on.
Patented Condensing Technology
Rinnai takes efficient water heating one step further by delivering more efficiency than ever before. Their patented design incorporates an innovative multi-stage heat exchanger to achieve optimum heating efficiency, wasting less heat through exhaust gasses.
Traditional non-Condensing tankless water heaters allow hot gases to vent directly outside. pushing wasted heat outside the unit. Condensing water heaters extract the additional heat from exhaust gases in various stages, making them far more environmentally friendly when compared to conventional tank-based units.
Inbuilt Safety Features
Rinnai incorporates a host of safety features, such as flameout detection, overheating sensors, and gas leak detection. these are especially important for indoor heaters because as you can imagine a gas leak indoors can be very dangerous and even deadly.
Ideal for Small and Mid Size Households
The Rinnai V65iN's compact size is a perfect fit for small bathrooms and kitchens as well as those with limited space. It measures 9.27 in / (235.5 mm) Deep, 26.9 in / (684 mm) in Height and only 14.04 in / (356.6 mm) Wide.
Durable Construction
Although this is the value range, you can still be sure you are getting the highest quality build, they are still built of quality stainless steel and pass Riannais strenuous quality control.
Great Warranty
The Rinnai tankless water heater warranty is impressive. You get an amazing 10 years warranty on the heat exchanger, 5 years on all other parts, 1 year on the integrated controller, and a limited 1-year labor warranty.
There are some exclusions to be aware of, like the previously mentioned voiding of your warranty if the unit is installed for central heating.
The warranty is also shortened to 3 years if the heater is installed in any closed-loop system, or in a series with other heaters.The big one to watch out for is the "poor water quality" for most households this will not be an issue, but if you are using a well water supply be aware this could cause issues and void your warranty.
This is why we always recommend a whole house filtration system if you are going to use a tankless water heater on well water.
Rinnai V65iN – The Not So Good
Initial Purchase Price
Although this is not an expensive tankless heater it is far from a budget unit.
Will Require an AC Power Source
This system does require connection to mains power, so if you do not have an AC power point near where you are going to install the unit, then you will need to factor in the cost of getting an electrician out and installing a new GPO.
It Needs Special Venting
Because this is an indoor condensing unit you must install the appropriate ventilation system, if you do not the system will not work properly. Make sure if you buy the unit you also buy a ventilation kit to suit it.
Installation is Not as Simple as Other Units
Because these heaters need special ventilation kits they are not as simple to install as an external heater such as the Rinnai V65eN. This means that the install cost will be slightly more than it is with other units.
Maximum Temperature Set to 120 Degrees
This is not really a big issue as 120F is plenty hot for most people, but if you like really hot water then the standard manufacturer's settings may be an issue for you. There are ways to alter this but you will potentially void the manufactures warranty.
Ease of Use and Reliability
Once installed the V series heaters are simple to use, thanks to the digital control unit they also offer great control over your water temperature. If you have your unit serviced regularly, they are a very reliable unit that will give you decades of use. Like all tankless water heaters, they can be affected by scale build-up so it is recommended that they are flushed once every 6 to 36 months, depending on the hardness of your water.
The Average Cost
These are a good value unit, depending on where you buy your unit they will cost between $650 – $800 plus you will need to get the condensing ventilation kit which is usually around $100. Although not the cheapest water heater available, this unit is going to save you money over time. Firstly because it is very efficient so your gas bills will be low. Secondly, Rinnai water heaters are known for their long service life, saving you money on costly repairs and replacement.
FAQ's
What are some other options for water heaters that are similar to the Rinnai v65iN?
In our opinion, the closest comparison to the V65iN is the Eccotemp EL22i-NG. It has a slightly higher, but almost identical maximum flow rate of 6.8 GPM is similar in price, has the same energy ratings, and also has a 10-year warranty.
What was the hardest part of installing the V65iN water heater?
The most complicated part of the installation is setting up the ventilation system, many people who attempt to do this themselves have run into trouble.
Where does V65iN stand if we compare it with a traditional storage tank water heater in terms of energy consumption?
Because the V series are instant tankless heaters they only consume gas while in use, making them far more efficient than older storage heaters, this will typically result in around 1/3 gas-saving for an average household.
Final Verdict
Having reviewed every aspect of the Rinnai V65iN we can to anyone that it is a very good water heater. Ideally suited for those who are looking for a quality tankless water heater, able to service a small to average-sized household. And, although you will pay slightly more initially, we believe that this is money well spent for the peace of mind knowing that you will get years of reliable use.