Best Portable Tankless Water Heater Reviews 2022
The invention of the portable tankless water heater or just portable heater has transformed camping trips and other outdoor activities. Gone are the days of standing under a black portable shower bag of cold water. Shivering as a trickle of what was supposed to be "HOT" water trickled out.
Adding insult to injury, solar bag showers don't hold much water so you had to be quick. And of course, once the water was gone, they had to be filled up and would take hours to get warm again.
Thanks to modern advances in technology you can now enjoy the creature comforts of home while roughing it.
Portable water heaters are not just for camping trips, they are ideal for use as a water heater in an RV and can be rigged up as a temporary solution during home renovations.
These are our Top 3 Recommended Portable Tankless Water Heaters
Best Overall
Camplux 1.32 GPM
Tankless Water Heater Propane Outdoor Black
About this item
Portable Design
Easy to Install
Energy & Cost Saving
Low Water Pressure
Premium Choice
Eccotemp L5
Portable Outdoor Tankless Water Heater w/ EccoFlo Diaphragm 12V Pump and Strainer
About this item
Lightweight, easy to carry, and compact
Runs on a standard 20 lb. liquid propane tank
CSA certified for use in the US and Canada
Budget Best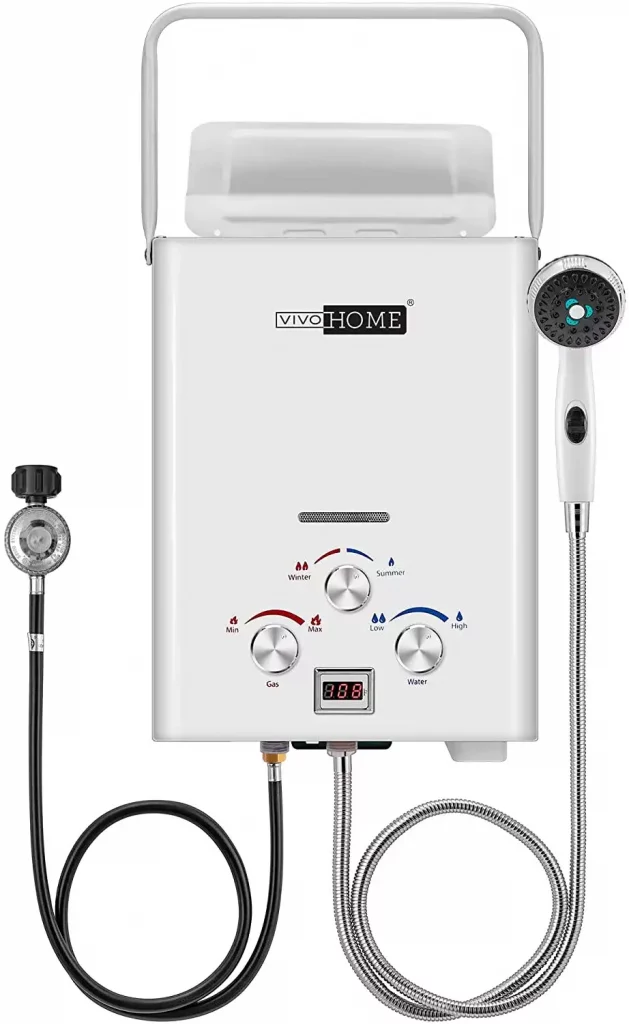 VIVOHOME Outdoor Portable
1.6GPM 6L Propane Gas Tankless Water Heater Digital Display RV Camping Water Heater Overheating Protection
About this item
POWER EFFICIENT

SAFETY PROTECTION
WIDE APPLICATION
Best Portable Propane Tankless Water Heater 2022
Although portable water heaters are usually much smaller in size they are more than capable of producing enough hot water for a great hot shower. Or maybe you are more interested in easily filling the sink with hot water to clean up.
Some, not all portable tankless water heaters require batteries that you can get from any regular store.
Most of these water heaters we reviewed are instantaneous style water heaters, meaning they automatically start heating the water as soon as the first water flow is detected.
Lightweight, moveable water heaters are available in both, gas and electric, if you camp off-grid away from established campsites with power then gas may be your best choice because they can be used without mains power.
But if you are mostly camping where there is power, or have a good solar PV and battery setup an electric unit could be perfect, they are far simpler to set up, don't require a propane tank and some would argue that electric is safer too.
Amazon's Choice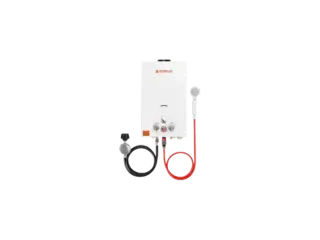 1. Camplux 2.64 GPM Propane Gas Water Heater, Outdoor Camping
With an energy saving function that allows for cheaper utility bills
The Camplux 2.64 GPM Propane Gas, Outdoor Camping Tankless Water Heater with Digital Control Panel features an energy saving function that allows you to save money on your utility bills while still enjoying. This product has a lightweight design that makes it easy to carry around and install wherever you want. The Camplux 2.64GPM water heater is designed for the supply of small and medium-scale water needs. It is ideal for outdoor use, but can also be used in a workshop or hunting cabin. It is very easy to set up, all you need is a gas bottle, and a water supply, once connected you will have an instant hot water supply for as long as you need. On the whole, this model is going to offer you a great portable hot water supply at a very affordable price.
You will require 2x D size Lithium batteries, which should give you 6-9 months before needing to be charged or replaced.
We also recommend that you get a water pump such as the SEAFLO 33-Series, so that you can use this water heater even without mains pressure water.
Features of Outdoor Camping Tankless Water Heater
Modern Design
The unique digital temperature display makes it easy to read the temperature. This gas water heater is compact and light with minimal noise output. Subsequently, the Camplux water heater is ever made which stopping the new and most advanced security systems to ensure your safety.
Save More Energy
It has some energy-saving technology inside, like a propane burner and heat exchanger that is designed for maximum efficiency! The quiet operation is perfect in a quiet setting such as a camp in the woods.
This Camplux model has flame protection and antifreeze protection using a safe electrical dump system to drain the unit in the case it is likely to freeze.
Controls Water Temperature
You can adjust the hot water temperature to suit your liking, but hot water will shut off automatically when the temperature exceeds 176 °F. The automatic cut-off feature on these heaters is designed to protect you and your family from scalding.
---
Best efficient
2. Gasland outdoor portable Tankless Water Heater
Overheating Protection, Easy to Install, for RV Cabin Barn Camping Boat
The On Demand Hot Water can be used in your RV, boat or anywhere else you need instant hot water. The Gasland 1.58GPM 6L, is one of the best portable tankless water heater and you can get it in white, black, or red to match your style.
You'll love to have this small, but efficient Gasland water heater. It has an on-demand instant hot water feature that you can hang anywhere with ease and get hot water!
The ability to work with a low flow is better than other brands. The versatility and ease of use make this water heater the best option for camping.
It features safety features that you would expect in the best water heaters, such as an automatic gas shut-off in the event of a flameout.
Finally, it has an overheat protection feature too shutting off if temperatures reach 167 °F.
Features of GASLAND Outdoors BE158R
Lightweight Design
This model is really lightweight, so you can take it anywhere without worrying about weight or bulkiness! Even if your camp is a short walk from your vehicle it is easy to take with you. Why not treat your pets to a warm wash, simple connect the garden hose in your own backyard, it only takes a few minutes to set it up.
On-demand Hot Water
With Gasland water heaters you can get hot water wherever and whenever you need it. They're perfect for camping outdoors, construction sites, or even RVs. They have easily adjustable fully flexible temperature and water flow controls.
Energy Saving Product
Gas consumption is reduced thanks to the highly efficient heat exchanger, and burner, which also reduces the amount of noise the unit makes.
You will save a lot of propane using an efficient water heater, which is something you should consider when looking at a portable water heater.
The Downside
This portable heater works best with mild temperatures, some people have complained that the water isn't hot enough when their input water is especially cold. With this in mind, consider a more powerful unit, such as the previously mentioned Camplux 2.64GPM if you plan on using it in freezing conditions.
---
Best Overall
3. Eccotemp L5 portable Tankless Water Heater
Low Pressure Activation And Is Easy To Connect To Any Standard Garden Hose
This tankless water heater is CSA certified for use in the US and Canada, so you. It runs on standard 20 lb propane cylinders (not included) and has a built-in safety shut-off that activates when the unit runs longer than 20 minutes or if it is tilted more than 45 degrees in either direction. What we really love about the Eccotemp L5, and why we think it deserves its place as the best portable tankless water heater is the water heats up quickly and it is of amazing quality for a reasonable price. Plus it comes complete with everything you need to set it up, including a water pump, and strainer/filter. You will be blown away by how easy it was to set up, as well!
Temperature Control
Sometimes simple is best. There is no fancy digital temperature display, instead, you have two easy-to-adjust knobs. One to control water flow, the other to adjust the flame strength.
Liquid Propane Fuelled
The water heater has electronic ignition. It is powered by two D-sized batteries, which last a very long time and are easy to replace.
The fittings are designed to suit a standard 20 lb. liquid propane tank, and they're easy to connect to, making it ideal for travel. Finally, you can connect the Ecco flow 12v water pump, allowing you to have hot water in the most remote areas.
Warranty
Eccotemp does have amazing customer service and 500 5 star reviews! If you're looking for the best water heater, look no further than Eccotemp.
The warranty on this product isn't great, only 1 year. It's a good thing that although the warranty is short the parts last a long time.
One thing most customers say is that Eccotemp does have amazing customer service! If you're looking for the best water heater, look no further than Eccotemp.
What to Be Careful Of
The only downside to high-efficiency heating coils is that they're thin. The Eccotemp should not be allowed to freeze. If you do, the heat exchange coils will burst. It's best to fully drain it of water before freezing temperatures hit so that you don't have this problem.
---
Heavy duty overall
4. Eccotemp L10 Portable Water Heater
It's The Perfect Addition To Your RV, Camper Or Cottage.
It also includes a battery operated ignition system so there's no need for electricity which means this unit can be used. The L10 comes with an integrated 3-stage regulator that will deliver up to 50 PSI of high-pressure hot water and 2.9 GPM (gallons per minute). There are many options on the market for portable water heaters, but Ecotemp's model is one of the most popular, and for good reason too. Ecotemp has always focused on heating efficiency, safety, reliability and durability.
With this portable tankless heater, you don't need any additional power source to use it because it's powered by propane and batteries so there are no worries of finding a mains power supply while camping. It also comes with a pump for use if you don't have pressurized water which adds some versatility to its capabilities.
The only downside I found was that you'll need to set and control the temperature manually, which is no big deal.
Features of Eccotemp L10 Portable Water Heater
Temperature Range
The Eccotemp L10 Tankless Water Heater is the perfect choice for anyone who needs a powerful hot water solution. This amazing machine delivers up to 2.6 gallons per minute of instant, on-demand hot water that ranges from 80-165 degrees Fahrenheit and can be used to run two outlets at one time! With this level of efficiency and performance, it's no wonder why the Eccotemp L10 Tankless Water Heater is top-rated by customers across America.
High Efficiency
The Eco temp is more of a semi-permanent portable heater. More suited to outdoor showers, horse stables, RV's and portable work sites. It is very efficient and will provide more than enough hot water in most situations. But it is too bulky and requires more setup than some of the smaller units. Making it not so suitable for camping trips.
Final Thoughts
One of the best features of this water heater is its versatility. It can be plumbed in with standard NPT fixtures, but it also works well off a 12-volt pump if you're living off-grid or have limited access to electricity. The L10 has an operating range that ranges from 25-80 PSI, so no matter what your situation is, chances are good that the L10 will work for you. So whether you're looking for space-saving solutions or want to make sure there's always hot water on hand when needed—the L10 portable tankless water heater could be right up your alley!
---
Perfect designed
5. Gasland Outdoors BE264S 2.64GPM
Compact and light weight structure with 11.5% Energy Saving Technology
The Tankless Water Heater is an excellent choice for anyone looking to save money and energy while still having the convenience of hot water on demand. It can be used for residential or commercial purposes. I would highly recommend this water heater to anyone looking for a reliable, affordable and quality product.
You will be impressed with the features of this model; it fires up every time without fail, has an easy-to-read temperature display so you can set it at 110 degrees throughout your entire shower (and unlike some other models that only hold the temp well during initial heating).
And it is reasonably priced while still maintaining high standards in terms of durability and reliability.
Features of Eccotemp L10 Portable Water Heater
Smart & Considered Design
This portable tankless water heater is a great solution for campers or people living in small spaces, such as a tiny home, yurt, or RV. It can be hung from the mounting bracket on top of your gas water heater, and it only takes a few minutes to install
Led Display
The most significant difference in this water heater is the new, easy-to-use temperature display. No more guessing which dial to turn up or down! This feature makes it so that you can always control your desired water temperature with ease and without any hassle whatsoever. Set the flow of water in real-time and set the right temperature with the finger.
Reliable and Durable
When you're looking for a water heater, there are many options to choose from. Some people go with the cheapest option while others invest in gas models that last decades. Gasland has been manufacturing some of the most reliable and durable units on the market for many years. So if you want your money's worth out of your new purchase, Gasland is a good choice.
---
Most Portable
6. Camplux 1.32 GPM Portable
Camplux 1.3 GPM Portable Tankless Water Heater is a Safe and Cost Saving Device.
The Camplux 1.32 GPM Portable Water Heater Tankless Water Heater Propane Outdoor has a compact design that makes it easy to move. You can have a shower or take a bath whenever you want without waiting for the tank to heat up, which takes hours. The Camplux 1.32 GPM Portable Tankless Water Heater is the baby of all Camplux models, and it's also the most easily portable water heater.
This 1.32 GPM on-demand hot water heater comes with 5 feet gas regulator, shower hose, and standard garden hose, making installation easy in less than a few minutes.
It weighs only 14lbs which makes this perfect for camping or any other time you need an instant source of hot water that won't take up too much space in your RV or tent!
Features of Camplux 1.32 GPM Portable Water Heater
Smart & Considered Design
An original heater for use is a pointless use of a non-tiled tank designed with good touch control & digital display, a small storage space size, suitable for installation under the sink. Additionally, the minimum effective water flow simply requires 1.2 GPM.
Simple No Fuss Settings
Consequently, the Camplux waterproof heater features a digital rotary refresh rate and touch control panel, showing you an easy flow of water in real-time and set the right temperature with the finger.
Low Pressure Starting
If you're looking for a simple and reliable water heater, the Camplux 1.32GPM is worth your consideration. With no bells or whistles to speak of it may not be ideal if you don't need to control the temperature digitally but this is also what makes it so great–it's super portable, easy to use and cheap! This one will work without any fuss in most settings with its low flow capability. It even has some safety features like a built-in thermal fuse which automatically shuts off power when there are issues with overheating. Overall we think this is a solid choice for anyone who wants something straightforward yet dependable.
---
Best Overall
7. Eccotemp Luxé EL5 Portable
It's Portable and can be used anywhere you'd like to take it.
The EL5 runs on a standard 20 lb. Liquid Propane tank, which allows it to run for up to 10 hours on low setting (1 gallon per hour) or up to 3 hours on high setting (3 gallons per hour). If you're looking for a budget-friendly tankless water heater, then the Eccotemp Luxé EL5 Portable Tankless Water Heater is your best bet. It has a low flow rate of 1.5 GPM, but that is more than enough for most outdoor applications.
Features of Eccotemp Luxe EL5 Portable Tankless Water Heater
Digital Temperature Display
It does have an easy-to-read digital temperature indicator.
Overall Performance
The company claims that it is a low pressure model but when we tested the water flow, many of our testers found it to be too high for their situation. You would need a pump to boost the water pressure in order to use this product reliably if you live off-grid and don't have access to city or pressurized well-water connections.
Lightweight Design
This model is a compact size and designs easy to carry. It can bring you amazing heat when you set up tents, at the beach, etc. And you can wash your pets with this waterless heater outside.
---
Best Overall
8. VIVOHOME Outdoor Portable 1.6GPM
Enjoy The Luxury of Hot Water Whenever You Want It.
It's very easy to use and install, you can enjoy hot showers at any time anywhere you like! Its compact size allows you to easily place it anywhere you want, thanks to its foldable handle that makes it easy to carry around. We've talked about a lot of outdoor water heaters today and we hope you found one that suits your needs. But we have just one more to go. The VIVOHOME outdoor portable water heater is a great little unit for outdoor showering. It has surprisingly good water pressure for a small unit and it gets as hot as you need it to be.
Features of VIVOHOME Outdoor Portable
OVERALL PERFORMANCE
The pressure this water heater works with is from 3 to 145 PSI. That means it can work in a lot of different situations. If the pressure is very low, the gas will not be lit and the water heater will not work. This makes it good for rural areas where you may have low-pressure, but most cases a small 12v water pump will be ideal to pair with this unit and make it capable of working completely off grid. Overall though I would say its pretty great!
Good Flow Rate
If you're looking for a good middle of the road water heater, this unit may be perfect. It can deliver 1.6 gallons per minute and consumes low energy but is very efficient still delivering steaming hot water. There is also a larger 2.64GPM model available for not much more if you need it!
Maximum Temperature
If you're looking for a good middle of the road water heater, this unit may be perfect. It can deliver 1.6 gallons per minute and consumes low energy but is very efficient still delivering steaming hot water. There is also a larger 2.64GPM model available for not much more if you need it!
---
Frequently Asked Questions( FAQs )
1: What Is Portable Tankless Water Heater?
Portable tankless water heaters are also called fast water heaters that provide hot water when needed. Subsequently, they do not hold waiting for water instead of giving you hot water right away.
2: Where Should a Tankless Water Heater Be Installed?
As long as your water heater is not ventilated, it can be installed in the operating room, garage, basement, and attic or mounted on the outside wall. It can also be installed in an area where a hectare of water built into a tank may be unsuitable, such as a bedroom or bathroom.
3: Are Tankless Water Heaters Worth the Money?
Waterless tanks save money over time, but initial costs are higher than tank models. … The U.S. Department of Energy estimates gasoline-free heaters that keep an average of $ 108 a year on energy costs more than its traditional counterparts, while electric stove heaters are $ 44 per year.
4: Do Tankless Water Heaters Work When the Power Goes?
While the most sought-after gas water heaters do not rely on electricity as a source of heat in hot water, the required heaters usually have a power-enabled control panel which is the 'brain' of the water heater.
Conclusion
Whether you're building a new home or renovating a standard water heater for our water, it is clear that the future is heating up wireless water. Consequently, having the best portable tankless water heater 2022 in your home is not a luxury. Instead, this is the perfect need for your family and yourself for the winter. So, before installing a water heater, you need to know everything nitty-gritty about it.
Once you believe you have the best portable tankless water heater without electricity. Then try to find the one that is right for you. You can finally pick one that will serve your purpose better.