Choosing the best countertop water filter can be difficult due to the abundance of water filters available in the market. Many of those filters are not even NSF certified and made of soft plastic that constantly leaks BPA materials into the drinking water. Those models need quick filter replacement and regular maintenance.
Consuming tap water regularly may seem convenient and budget-friendly, but it can be a threat to the immune system and overall health. Common tap water can contain lead, chlorine, VOCs, pharmaceutical, mercury, herbicides, pesticides, cysts, and more.
We have gathered a list of top 9 water filters that are affordable, durable, positively reviewed in the market, doesn't produce any wastewater during the filtration process, and operate at more than 95% filtration efficiency.
Check out our top 3 picks. Each countertop model is best in its own right.
Best Countertop Water Filter Reviews 2021
The best countertop water filter system is one that removes 99% of commonly found toxins from the drinking water. It will remove the bad odor and develops a delicious taste in the drinking water.
It will be made of either stainless steel, ceramic, or any other material that is durable, corrosion-resistant, doesn't leak BPA material in the water.
Such a filter has be to lightweight and portable so that you can carry it around on a picnic.
The best countertop water filter system will provide many gallons of clean water before a replacement. Its installation will be super easy. Most of the countertop models are super easy to install. It's DIY.
Most importantly,
Always check if the unit is certified or not. Many products are available in the market are not certified and people are buying them. Kindly ignore those products. We don't know if they're capable enough to filter toxins.
Let's Get To Our Top 9 Best Countertop Water Filter Reviews
Specifications
Item weight: 7.45 pounds
Item dimensions L x W x H: 8.5 x 8.5 x 19.25 inches
Flow rate: 0.03 GPM (gallons per minute)
Batteries required: No.
Size: 2.25 Gal
The material used: 100% Stainless Steel
Features
Item weight: 7.45 pounds
Enough for 1 – 4 people/day
Can be coupled with additional Big Berkey purification elements to increase the flow rate
Removes 99.99% viruses and pathogenic bacteria.
Reduces inorganic minerals, and heavy metals.
Highly durable
Budget-friendly
Long-lasting
Black Berkey Purification elements last up to 6000 gallons of water (True capacity)
6 different sizes are available
Reviews:
Big Berkey portable water filter is the answer to the regular contaminated tap water that is filled with different chemicals and toxins like Prohormones, pesticides, bacteria, heavy metals, etc.
It uses gravity to force the water through the cartridge, removing pathogens and above mentioned toxic elements with close to 100% purification efficiency.
Why choose big Berkey – Benefits
It is No#1 on our Best countertop water filter list due to the following reasons:
This model is affordable with 99% filtering efficiency.
It works on four purification elements. Two Berkey black filters, and two fluoride filters.
An average household of 2 – 4 people uses about 2 – 4 gallons a day, and Big Berkey provides an actual 6000 thousand gallon capacity which is more than the actual requirement.
You have about four years with one load of these filters.
It would be a stressor if you had to constantly replace the filters, but since you don't, you can get clean water regularly.
No electricity, tools, and plumbing services are required.
You don't even need to attach it to your kitchen faucet (portable).
Bring it to any picnic spot, and use the pond water. It will take out 99% of toxins in the water.
It is one of the cheapest water filters in the market.
Berkey purification filter elements: Berkey filters can clean out 99.99% of the toxins and they work on three different levels to filter out:
viruses
pathogenic bacteria
heavy metals including arsenic, lead, mercury, and chromium
pesticides
Prohormones
Protozoa
Inorganic minerals
Pharmaceutical drugs, etc.
These filters are made of carbon composite containing high-grade coconut shell carbon combines with 5 different types of media which allow to filter everything out (foreign substance).
Both filters will give 6000 gallons before being replaced. This capacity can be increased in areas where the quality of the water supply or groundwater is not that bad.
The technology used in Berkey Filters:
There are millions of pores in filters. The first path that toxins have to go through are these small countless pores.
Just that first defensive layer makes it extremely difficult for toxins to pass through.
Then adsorption and absorption technology are being used by the filters to create an ion barrier. The ionically charged barriers will filter the remaining heavy metals and minerals.
In simple words, the ionic barrier will pull the metals just like a magnet.
The two extra filters will help to filter out fluoride:
Nobody likes to drink water rich with fluoride, it is not good for health. The two extra white-looking filters help to makes sure you get all the fluoride out from your drinking water. Both filters last about a year.
Why Big Berkey is durable:
This model is 100% plastic-free and made of 304 stainless steel. The 304 steel has excellent corrosion resistance and heat resistant properties. That is why this water filter is among the best countertop water filters in terms of durability.
Big Berkey water filter is precisely designed to stay intact so that it would be a primary choice for road trippers and campers. It won't leak or break under the shocks of mountainous roads. I would recommend this model to travelers.
Pros
Super budget-friendly
Highly durable and long-lasting
True 99.99% toxins removal capability
Purification filters can last up to 4 years
6000 gallons per pair of filters
Suitable for water supply, well water, and groundwater.
Comes in different sizes
Sturdy stainless steel container
Portable
Cons
A lot of users detect a rubbery smell from the water at first.
Verdict:
Health professionals will always advise you about drinking more water, but they don't mention most water sources has either chlorine, fluoride, heavy metals, or prohormones and pathogens.
Quality of the purification filters of big Berkey filters out almost all of the toxins found in the water. This model is constructed from stainless steel which means, chances of scaling are almost zero.
I can't emphasize enough how good Big Berkey is in a normal household, but it has proven its worth on camping sites as well. I am recommending this gravity-fed best countertop water filter system.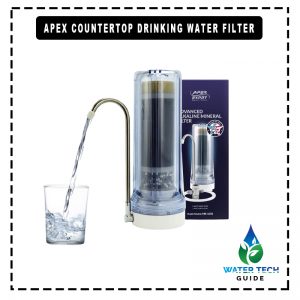 Specifications
Item weight: 7.45 pounds
Item dimensions L x W x H: 15.2 x 15.2 x 35.6 cm
Batteries required: No.
Size: 2.25 Gal
National safety foundation certified
The material used: Carbon Fiber
30-Day manufacture warranty
Features
Connect well with standard faucets
99% contaminant removal
Each filter holds 750 gallons of drinking water capacity before replacement
Uses a 5-stage filter technology
Last 6 – 8 months for a family of four
Adds beneficial minerals to your drinking water
Tool-less assembly apart from the main housing
Budget-friendly option
Environmental friendly (reduces the cost of plastic water bottles)
Reviews:
Apex Countertop Drinking Water Filter is a simple, yet powerful filtration unit that is compact, easy to use, durable, long-lasting, cost-effective, and lightweight. The final product (water) is rich in beneficial mineral content which neutralizes the body acidity by balancing the PH levels in the blood.
Apex is super easy to install. Apart from the main housing, the entire assembly is tool-less. It is a budget-friendly option for a family of 2 – 4.
Why chose Apex Countertop
Apex Countertop cleans 99% of the commonly found contaminants in tap water chlorine, sediments, radon, heavy metals, and toxins which contribute to water-borne diseases.
This simple model uses a 5-stage filtration system that balances the water's PH-LEVEL while lowering acidic properties.
After removing harmful contaminants, it adds minerals such as magnesium, potassium, and calcium to the drinking water.
The final product is odorless water pleasing in taste.
Each filter can provide 750 gallons of drinking water before a replacement is needed.
For a family of 4, the filters can last up to 4 – 8 months.
Apex Countertop's size is compact so that it can easily sit beside you sinks. It does not take much space.
This model is made by using carbon fiber which is much lighter and 8 – 10 times stronger than steel.
This model promotes better hydration than bottles of water.
How Apex Countertop water filter is promoting Environment
By purchasing your own kitchen water filter, you are not only saving your money, but it is the better and responsible choice for helping to mitigate millions of plastic water bottles.
Pros
Attaches to any standard faucet for easy refilling
Improved taste by chlorine removal
Super easy installation.
The package includes the hardware needed to connect with a standard kitchen faucet.
Economic choice
No need for purchasing disposable bottled water
Filtered water reduces fatigue, strengthens bones, and supports the immune system.
Final Verdict:
Apex Countertop Drinking Water Filter purifies almost all known contaminants from the drinking water. Water may flow a bit slow from the faucet, but not to a frustrating level.
Though installation is really easy, a manual is attached to the package. Many people including me like to drink alkaline water. Apex is the best countertop water filter in terms of how easily we are getting alkaline water.
Opt for it. It won't disappoint you.
Specifications
Item weight: 0.5 pounds
Item dimensions L x W x H: 31 x 13.7 x 11.7
Batteries required: No.
10 stage filter system
30-days money-back guarantee
Features
Connect well with standard faucets
Odorless water
Easy connection to the faucet
800 gallons of filtered water. 2 cents per glass
Use on municipal tap water only
Economical
For standards faucets only
More than 99% contaminant removal efficiency
Reviews:
New wave Enviro is not only a 10-stage filtration system that is 10 times more cost-effective than bottled water, it is also safer.
Bottled water companies use plastic as their primary container because it is the cheaper option. The problem is plastic leaks a harmful chemical known as BPA in the water which is directly linked to many health issues.
New wave Enviro 10 Stage Water Filter System is more than suitable for a family of four living in a small apartment.
Why choose New wave Enviro 10 Stage countertop water filter:
This model sleek, light, and portable in design. It consists of only 1 canister filter so it easier for students or young adults to carry it to their rented apartment.
Connect to any standard faucets within seconds. If you are using a spray faucet, there is an under-sink installation feature as well.
This unit filters the major contaminants to an EPA minimum level.
These contaminants include:
Chlorine: Chlorine and its byproducts can raise one's risk of cancer by 70 – 73%.
Lead: Birth defects in pregnant women and child brain damage is caused by lead.
Arsenic: Skin, lung, kidney, and bladder problems are caused by Arsenic.
Other dangerous minerals such as asbestos, mercury, and organic contaminants such as pesticides and herbicides are included.
The 10-stage filtration system:
50-micron pad:
Water flows through the first stage which traps and holds larger solid such as rust.
Silver-impregnated activated carbon:
At this stage, a bacteriostatic environment has been created which helps to remove cancer-causing organic contaminants.
Cation exchange Resin in H+ Form and Na+ Form:
Filters heavy metals such as copper, mercury, and lead.
6. Plus stages: Anion Exchange Resin & Inorganic Component:
These stages pull out any sulfates and phosphates that can interfere with inorganic ARSENIC removal.
8. Non-washed & washes activated carbon stages:
Chlorine's bad taste, odor, and byproducts are removed in these stages. Pesticides, herbicides, and other contaminants linked with cancer are also removed in these stages.
Ion Exchange Fibers:
Using ion-exchange fibers, additional protection from heavy metals has been provided.
5 Micron Pad:
Five-micron polishing filter develops delicious taste with clarity in the drinking water.
Pros
Filters up to 800 gallons with $50 annual replacement cost
Portable and compact for traveling
True 99% contaminant removal capability
Water tastes greater unlike the rubbery taste produced by most countertop filters
Money-back guarantee.
Cons
Well water and pond water sources are not recommended
Final Verdict:
There are more than 2100 known contaminants in regular tap water. New wave Enviro's 10-stage filtration process wipes out all of those known contaminants (99%). This model is compact in design, cheap, reliable, and durable.
Filtration replacement cost is cheap as well.  In most countertop filters, there is always that rubbery residual smell in the water. New wave Enviro 10 Stage Water Filter System provides delicious, the odorless water right from the get-go.
Its installation is super easy. After installing the unit, run for the water for at least 5 minutes. After that, you are good to go.
Specifications
Item weight: 4.25 pounds
Item dimensions L x W x H: 12.3 x 9.4 x 7.6 inches
Batteries required: No.
3-stage filtration system
Portable and compact
Easy installation
Features
Fits on any sink top
93% contaminant removal
Affordable
8000 gal. Filter capacity
Top class multi-stage granular filter
Reviews:
More compact and sleek than its predecessor, Home Master TMJRF2 JR F2 is an affordable choice for a family of 2 – 4. This model fits virtually attached to any common faucet with an aerator tip.
Connection with the Faucet:
If your faucet has a male connection, take the diverter valve and screw right on. If your faucet has a female connection, you will have to use the faucet adapter to connect the diverter valve directly to the faucet.
How Home Master TMJRF2 works:
When are you ready to draw the water from this unit, turn on the kitchen faucet as usual, but only use cold water otherwise, you will damage your unit.
After pulling the pull pin, the water will divert from the tap water faucet down through the Home Master TMJRF2 faucet line into the filter itself.
You will get clean and delicious water at any flow rate, but the trick lies when you slow your flow. It will improve the water contact time with the media.
3-stage filtration:
1st stage: Activated Alumina
At this stage, fluoride is filtered.
2nd stage: KDF85 Media
Heavy metals like lead, mercury, manganese, copper, and filters hydrogen sulfide. Light metals like aluminum are also filtered.
3rd Stage: Blend of catalytic Carbon & coconut shell carbon
Herbicides, pesticides, chlorine, VOCs, other dangerous chemicals will be removed at this stage. 14000 different chemicals are eliminated using catalytic carbon.
All stages of working together will provide the best filtration possible at a very affordable price. The filtration replacement process across the entire junior series is similar.
Pros
Sleek, compact, and space-saving design
Clean water supply at any flow rate
High economical
DIY installation
Remove all the harmful toxins from the tap water
Cons
 Filters have a short life.
Final Verdict:
Home Master TMJRF2 JR F2 is among the best countertop water filters in areas where groundwater is not available. It is lightweight, reliable, durable, and removes almost every major contaminants found in the water.
Though the lifespan of the filter is short, the replacement cost is not that much. Home Master is offering 3 years limited warranty on parts. What else do you want under $100? I have not heard any complaints about this unit, go for it.
Specifications
Item weight: 2.99 pounds
Item dimensions L x W x H: 12 x 7 x 4 inches
Batteries required: No.
Temperature: 40 – 90 degrees Fahrenheit range
Flow rate: 0.4 gallons per minute
Indoor use only
Portable and compact
Easy installation
Features
NSF certified
Standard faucet/diverter connection
Removes 77 known contaminants
97% chlorine removal
Retains some portion of healthy minerals
No permanent fixtures required
No plumber required
Reviews:
Aquasana AQ-4000W is a budget-friendly option for those who want their water clean, odorless, and free from sediments. This unit guarantees 97% contaminant removal while retaining beneficial minerals (balanced) to the drinking water.
Aquasana AQ-4000 uses 2-stage filtration technology. It filters 10 times more contaminants than the leading gravity pitcher.
Why chose Aquasana AQ-4000W:
No wastewater of toxins is added to the final product (drinking water).
11 times the capacity of the leading gravity-based filter pitcher in the market (11 cents per gallon).
Easy installation. Just follow the manual. No plumber is required.
NSF certified. Proven to provide over 97% chlorine and chloramines removal.
Environmental friendly. Reduces the need for plastic water bottles.
How the filters work:
Activated carbon reduces the herbicides, pesticides, volatile organic compounds, and MTBE.
Chlorine and chloramine are reduced by catalytic carbon.
Heavy metals including lead, mercury, etc. are removed by ion-exchange.
Asbestos and chlorine resistant cysts like giardia are eliminated by absolute sub-micron mechanical filtration.
Aquasana AQ-4000W removes the following known contaminants
Lead
Mercury
Herbicides
Chlorines
Pesticides
Pharmaceutical toxins
Giardia, etc.
Additional features:
This model can easily provide 450 gallons of clean water. For a family of 2 – 4, this unit is perfect. The lifespan of filters is 6 – 7 months which is kind of fine considering the quantity of water consumed per day.
The thing that sets Aquasana AQ-4000W apart from other countertop water filters is that it retains the beneficial minerals while eliminating the contaminants at the same time.
Pros
More than 97% proven contaminant removal including chlorine.
Highly affordable
Retains beneficial minerals
Good flow rate
Portable
All the necessary hardware is included
Cons
Filters have a short lifespan
Final Verdict:
Aquasana AQ-4000W is among the best countertop water list due to its optimum contaminant removal ability while retaining the healthy minerals. Both processes are accomplished using the twin cartridge system.
Though you will keep changing the filters on schedule, the replacements are cheap so not much of a problem there. Aquasana AQ-4000W is fractionally expensive than most water filters providing similar features under $100, but it is NSF certified with a clean water guarantee. That is why it is on our list.
Specifications
Item weight: 3.54 pounds
Item dimensions L x W x H: 5 x 5 x 9.5 inches
Batteries required: No.
Volume: 10000 gallons.
30 days return guarantee.
Features
Economic choice
Easy installation
Saves money
No replacement filters needed
97% filtration efficiency
5-stage filtration system
Odorless water delivery
Reviews:
Cleanwater4less Countertop is a portable yet, high capacity water filter which is capable enough to provide 10000 gallons of clean, chlorine-free water for a family of 3 – 4.
This precisely designed model can last up to 5 – 7 years for a family of 3 – 4 without ever changing the filter. Why would you change the filter if your filtration unit can provide 10000 gallons of clean water?
Qualities of Cleanwater4less Countertop
This unit saves a lot of money because there is no need for filter replacements.
Installation instructions are included in the package. Even a kid can install this filter.
The 5-stage filtration system removes 97% of the chlorine, filters sediments, VOCs, and other toxins.
Diverter valve easily attaches to any standard faucet.
Cleanwater4less water filter provides value for money.
The idea behind its design is that you install this unit just once, and it will last up to 5 – 7 years.
5-stage filtration system:
1st stage: Sediment pre-filter
2nd stage: Depth pre-filter
3rd stage: High-Grade GAC activated media
4th stage: Depth post-filter
5th stage: Final micron filter
Pros
Durable.
Just install it once, and you are good for 5 – 7 years.
No filter replacement
10000 gallons true capacity
Easily attaches to any standard faucet
Improves water taste.
High budget friendly for a normal size family.
Cons
Only suitable for municipal water
Final Verdict:
There is no better option available in the market as far as value for money is concerned. The fact that you don't have to worry about filter replacement is cool in itself.
Cleanwater4less Countertop is environmental-friendly too. It does not leave any harmful pollutants behind during the filtration process. So you are also fulfilling your duty as a responsible citizen.
I am recommending this model.
Specifications
Item weight: 6.2 pounds
Item dimensions L x W x H: 11.5 x 4.25 x 11 inches
Batteries required: No.
Certification: certified frustration-free
Flow rate: 5 gallons per minute
Push-button control.
Features
98% chlorine
Under 10 minute installation
Continuous flow rate
Attaches to any standard filter
Portable
Highly durable
WQA (Water quality association) certified for NSF/ANSI standards 53, 42, and 372.
Reviews:
Using 3-stage filtration technology, Brondell H630 H20+ Cypress removes 98% chlorine, volatile organic compounds, pesticides, herbicides, industrial chemical, and bad rubbery odor from the water.
The quality and durability of this is displayed/advertised. I would say this model provides great value for money.
Why choose Brondell H630 H20+ Cypress:
This model is lab-tested independently
Removes all the bad odor from the water.
Removes all the toxins from the tap water without leaving wastewater behind
Best countertop water filter in terms of customer support. They are always available to guide you about any difficulty you are facing.
Though it is not recommended for the well water, some users have said Brondell H630 filters well water too. Not sure.
Compare it with other countertop water filters in this price range, the quality of the final product (water) is finer in Brondell H630 H20+ Cypress.
DIY Installation:
Faucet Diverter Installation:
Remove the aerator from your original standard faucet.
Insert the rubber washer into the threaded side of the provided diverter. There have not been any complaints about rubber smell in the water yet, you can use a silicon washer to make sure there isn't any rubbery smell. You have to purchase it separately.
There are three different adapters provided with the package if the threaded diverter doesn't attach to the faucet.
Hand-tight the diverter. Don't tighten it too much.
Inset the white tubing into the connection on the diverter.
Insert the other side of the tubing on the elbow found on the backside of the Brondell H630 H20+ Cypress.
Point the diverter switch up to the faucet, turn on the cold water, and then point the diverter switch back to the white tubing side.
Press the unit's button located on the top, and let it run for 10 minutes to activate the system.
Turn off the colder water and turn the diverter switch back to the faucet.
YOU ARE GOOD TO GO.
Under Sink Installation:
Note the size of the water connection under the sink, and purchase the T-valve separately.
Turn off the cold water supply under the sink. Turn on the faucet to drain any residual water.
Remove the cold water supply from the shut-off valve. Insert the rubber washer into the female end of the T-valve separately. Connect it to the cold water shut-off.
Reconnect the faucet water supply hose to the T-valve under the sink.
Insert the provided white tubing into the elbow at the back of the Brondell H630 H20+ Cypress.
Drill a hole under on counter and run the tubing to the T-valve. Connect it.
Point the T-valve handle/switch up to the supply line.
Turn on the cold water and check for leaks, and turn the T-valve switch to its original position.
Press the button on the top of Cypress and let the water run at least 10 minutes to activate the filters.
You are ready to get clean water from Brondell H630 H20+ Cypress.
3-Stage filtration:
HF – 31 – Composite Plus Filter:
This is a two-step filter. It reduces sand, rust, and scale from the water. It is more of a pre-filter which acts as a protective layer for the following two layers.
Replacement: every six months.
HF – 32 – Nanotrap Filter:
Patented and innovative filter that uses nanotechnology. It significantly reduces turbidity, waterborne microorganisms, and other harmful particulates.
Replacement: every 12 months.
HF – 33- Cabon Block Filter:
The carbon block filter reduces the remaining particulates, bad taste, odor, chlorine, and VOCs.
Replacement: Every 6 months.
Pros
WQA certified which is a big plus
Lightweight and durable.
Filters can be replaced easily.
The design appealing.
The filtration system leaves essential minerals unharmed.
Water tastes great unlike most mineral water bottles.
Cons
Annul filter cost replacement is a little high
The ON/OFF buttons sticking or breaking more that often.
Final Verdict:
Brondell H630 H20+ Cypress significantly reduces the TDS level. Drinkable water should be less than 500, and this model reduces to 150 – 160 ppm (parts per million). It is pretty safe to drink from this unit.
It gives great value for the money. Brondell H630 H20+ Cypress is highly recommended by the reviewers including me. You are in safe hands.
Specifications
Item weight: 4.72 pounds
Item dimensions L x W x H: 1 x 4 x 4 inches
Batteries required: No.
4-in-1 ceramic filter
Portable
Simple plugging. No installation
Features
Close to a 100% E.Coli, Cyst, and Cryptosporidium removal
Suitable for traveling
The filtration system removes water contaminants, chlorine, lead, and more.
2000 gallons capacity
Free lifetime support
Filtered water is odorless
Balances turbidity
Diverter dimensions: ¾ inches long & about ¾ of an inch in outside diameter.
Filter replacement: once a year.
Reviews:
The APEC CT-2000 is relatively fresh in the market, but it has earned its place in our best countertop water filter list.
The reason is its Multi-stage filtration system which filters almost every waterborne contaminant including chlorine, dust, cysts, lead, and heavy metals.
Benefits of Apec CT-2000:
This model is portable, lightweight, and sleek in design. The filter can last up to an entire year. The replacement cost is not that much. APEC CT-2000 is designed to filter 2000 gallons of water which is cool.
The filtered water can also be used for beauty facial tools, rinse fruits and vegetables, watering plants, and cooking. Compared to pitcher filters, cartridge cost making it a better value.
Simple installation:
This unit can easily be plugged into any standard faucet using a diverter valve. Call it a plugging, not actual installation. Let the water run for a couple of minutes to activate the filters. Use cold water.
Clean and odorless water:
This model delivers clean and odorless water at a good flow rate. I would also like to mention that the beneficial minerals are retained during the filtration process.
List of contaminants that Apec CT-2000 removes:
Chlorine
Bacteria
Cyst
Lead
Organic compounds
Heavy metals
Lead and more.
How the four-stage filtration process works:
The first filter reduces bacteria, particulate matter, cysts, and turbidity.
The second filter gives enhanced bacteriostatic and self-sterilized properties.
Stage 3: Activated Carbon
The work of activated carbon is to remove chlorine, bad odor, and organic compounds.
Stage 4: Ion exchange Resin
The last stage reduces lead and other heavy metals.
Pros
Ceramic Filter cartridge which is highly durable
The cleaned water is free from chlorine.
You will get delicious water filtered from the city tap water.
Saves up a lot of space.
You can use this water for your pets and plants as well.
Cons
Some people have complained that this system adds extra alkalinity to the water.
Final Verdict:
The highlight of this product is its super easy installation. There is no need to surf through the internet, it is just a simple plugging. I would say, it is a very good choice for boats, apartments, and small cottages.
APEC CT-2000 is using ceramic which is known for its grittiness and durability. It works excellent on city water supply, but I don't know if someone has ever tried this unit on well water.
It sits right beside your sink without eating up a lot of space. The taste of the filtered water is fantastic. You will have to try it to believe it.
APEC CT-2000 is one of the best countertop water filters in terms of flow rate, durability and performance of the filtration system, and overall convenience.
Specifications
Item weight: 3.44 pounds
Item dimensions L x W x H: 14.37 x 3.35 x 10.43 inches
Batteries required: No.
The fabric used: Food grade SUS304, Carbon Filtration Technology
Included: 1 Countertop water filter, 1 Faucet filter Cartridge
Features
No Leakages
No cracking. Corrosion free
Long-lasting performance
Built-in activated coconut carbon & ceramic filter removes 99% chlorine, sand, odor, and other contaminants
0.5 GPM high flow rate. 10 cups of water/minute
Rapid switching between filtered water and tap water
Retains healthy minerals
Five-level deep filtration
No wastewater produced
Affordable
Reviews:
ESOW Countertop Water Filter uses food-grade 304 stainless steel in its manufacturing which is known for its corrosion resistance, strength, and durability. That is why it is leakage, cracking, breaking, and deformation proof.
ESOW has guaranteed that this unit will not release any harmful contaminant into the water and so far, it has proven that.
ESOW Countertop Water Filter is using a very good filtration system that kills almost 99% of the harmful contaminants like:
Chlorine
Fluoride
Lead
Sediment
Rust
Sand
Silt and more.
That is why you can use the filtered water for drinking, washing, cooking, babies milk powder, and for pets.
Why chose ESOW Countertop Water Filter
First of all, it provides great value for money. It is not that expensive.
This unit is using high-grade stainless steel so say goodbye to the plastic.
A 1000 gallons of clean water is a promise which counts to more than 12 months. Not bad for a budget-friendly water filter.
Saves a lot of money on plastic mineral water bottles.
A 100% return has been guaranteed if the water doesn't meet expectations. I am sure it will not come to that.
This unit passes a filtration inspection test before shipment to ensure optimum filtration, reliability, and health benefits.
Its flow rate is really good. You get 10 cups (70z/cup) of filtered water per minute.
Design and installation:
The installation needs no tools. Installation instructions are pasted on the manual. It is DIY. The water faucet purifier has two outlets that are easy to control.
Its metal contrast matches brilliantly with the sink. There is no need to modify it.
One drawback is that it doesn't fit with spray, hand-held, and faucets with sensors. It only works with faucets using aerators.
ESOW's Carbon Filtration Technology
The carbon block medium is capable of removing microbiological contaminants, lead, asbestos, pathogens, mercury, and arsenic.
ESOW Countertop Water Filter uses this carbon block technology in three stages.
Stage#1: Traps sediments
Stage#2: Removes more than 99% of lead, and microbial cyst
Stage#3: Filters water in a way that a refreshing taste is developed.
Note: ESOW's ceramic filter elements uses a long lime surface to trap sediments, dust, sand, and other impurities. Use sandpaper to clean them once every 15 days.
ESOW's Multi-stage Faucet Filtration System
Large particles are intercepted by preliminary stainless steel mesh
Pre-sedimentation layers filters suspended solid particles, rust, sand, and small particulates
93% chlorine, bad taste, and bad odor are removed by activated carbon.
The advanced filtration layers remove lead and balance fluoride
Post-filtration layers further break down sand, rust, solid particles, and particulates.
Finally, there is that stainless steel mesh again which further intercepts large particles.
Pros
Using food-grade stainless steel which is highly durable and corrosion free
The filtration system is using activated carbon which is known for its flawless filtration, and bad odor removal
This unit is affordable.
The filter is thin which fits nicely.
It significantly reduces the TDS value
Cons
Only fits with standard faucets.
Final Verdict:
I like the fact there are these hidden gems in the market besides Big Berkey, Apex, etc. This unit is known for its easy installation, durability due to stainless steel, flawless flow rate, and efficient filtration using carbon block technology, and stainless steel mesh.
ESOW Countertop Water Filter is using 0.1 microns activated carbon which efficiently reduces lead, chlorine, and balances fluoride in the drinking water.
I know, you are not concerned with the science behind this model, you want clean water, a good lifespan for filters, low replacement cost, and durability. I will give this model 9 out of 10 for all these factors.
Try it. ESOW not that expensive.
Buying Guide for the Best Countertop Water filter
According to WHO, contaminated water can transmit diseases such as diarrhea, cholera, dysentery, polio, and typhoid. Each year, more than 485000 people suffer diarrheal deaths.
Water filters are not just the everyday products that you order online. This appliance is related to your health. So proper research is more than important. Especially for a countertop water filter.
Before making a purchasing decision, make a list of the following things:
Take the PH test of your existing water
TDS value of your existing tap water
How much chlorine and fluoride do you need.
What contaminants you need to remove from your water
Contact your local health department to determine what must is, and what is not in drinkable water.
After that, read our product reviews, and this buying guide carefully to detect the best countertop water filter for your family.
Our buying guide is based on data, actual information, and several other considerations to make sure you guys purchase an affordable, durable, highly efficient, and result-oriented countertop water filter.
Let's dive in:
The material used in the manufacturing of a countertop water filter
Construction material defines the longevity, durability, and purity of the water. Most countertop water filters use plastic in their construction which will likely leak BPA materials.
Bisphenol A (BPA) is directly related to high blood pressure, diabetes, and obesity. It is smart to avoid filters using plastic that leaks BPA materials.
I would recommend stainless steel which is durable, strong, and resistant to corrosion. It does not interact with water's properties and is prone to breaking. BIG Berkey & ESOW countertop water filters using high-grade stainless steel in their construction.
Ceramic is also recommended. It is also durable and prone to heat, rusting, and scaling.
Evaluate your household need:
I recommend that you should evaluate the water requirements of your house. Every family has different water purification needs. Some like more alkaline water, some need more minerals while others don't.
Check your municipal tap water. Not only heavy metals are a big problem in tap waters, but bacteria, pathogens, herbicides, strong odor, chlorine, and viruses are common in water supplies.
It is much easier to select a countertop water filter after you know which minerals you want your filter to retain, how much alkalinity do you need, and which contaminants do you want to get rid of.
Most of the units in our reviews retain beneficial minerals while removing lead, chlorine, bad taste and odor, arsenic, heavy metals, herbicides, pesticides, and other particulates.
Some models like APEX are known for their alkaline filtered water which is preferred by many households, but not everyone likes it. That is why I am emphasizing that should evaluate your home's purification needs.
Lifespan and replacement of filter
Even the best countertop water filter needs filter replacement. It is necessary to check the lifespan and replacement cost of the filter.
Different models have different replacements costs and lifespan. For example, the Cleanwater4less Countertop Water Filtration System needs no filter replacement. It will last up to 10000 gallons before needing a new one.
Other models like Aquasana & APEX are budget-friendly but their filters lifespan is 6 – 10 months with low replacement cost.
Many countertop models in the market are just a pain in the ass. Their filter needs regular maintenance and quick replacement.
Always check the filter replacement cost and the lifespan. Many budget-friendly models are giving excellent filter lifespan with minimum maintenance.
Check out all the products in our best countertop water filter reviews. You will find one that suits your pocket.
Contaminant filtration capability:
Some filters are efficient enough to filter all kinds of contaminants including chlorine, arsenic, and lead. Others are more targeted towards specific toxins.
While choosing a water filter, check if the filter is capable enough of removing:
Chlorine
Arsenic
Lead
Heavy metals
Herbicides
Pesticides
Pathogens
Bacteria
Suspended solids
Particulate matter and more.
The main purpose of a water filter is to provide contaminant-free clean water. Don't compromise if the filter is not good enough.
Such filters are not only limited to expensive models like Big Berkey, other budget-friendly countertop water filters are in our reviews are also capable of removing above mentioned contaminants with more than 95% efficiency.
The more complex a countertop water filter is, the more expensive it will be. There are many factors upon which cost is defined such as:
Which type of material is being used
The efficiency of the filtration
Stages of the filtration process
Flow rate.
Filter's lifespan
Can we use the countertop filter for well and pond water too, or not.
The durability of the product
Size of the product.
Make a checklist of all the above factors before making a purchasing decision. Most countertop filters are not efficient in their work, but in the end, it all depends upon your budget.
We have dug up some of the best countertop water filters that are practically flawless in their work, durable under stress, will provide more than 90% filtration efficiency with low replacement cost (most of them).
And the good news is,
Not all of them are expensive. If you can afford it, then Big Berkey & Apex counter top filters should be your choice because both of these units are durable, highly efficient in their work.
There are other budget-friendly options like ESOW & Brondell which will also provide clean and delicious water to the family of 2 – 4.
Compact and space-saving:
One of the main purposes of a countertop water filter is to save space and sits perfectly beside your sink.
Most countertop water filters are sleek and lightweight, but some models are bulky in their appearance.
I would recommend going for a portable, lightweight, and sleek model like Apex, Brondell, Aquasana, and Big Berkey. You can carry these units anywhere from camping to small apartments.
Filtered water taste and odor:
I want my water to be delicious and free from bad odor. Different people have different choices in terms of water taste, but no one wants bad odor.
Read the reviews carefully to know if the unit is releasing bitter taste in the end or sweet delicious water. Whatever happens, never choose a unit whose filtered water smells like hell. It is my humble advice.
People also complain about the rubbery smell in the water caused by rubber washers that fit over the diverter valve. It has nothing to do with the filtration process. Replace the rubber washer with a silicon washer. You will not smell that rubber again.
How easy it is to install a countertop water filter
Don't worry about this step. It is easier than you think to install a countertop filter. One of the drawbacks is, most water filters only attach to standard faucets with aerators. Always check if the filter can attach to the faucets or not.
You need to remove that aerator and insert the diverter valve as per the instructions printed on the manual, and your water filter is ready to go.
No need for additional tools for plumbing. It is DIY.
Warranty and support
A 30-day return and exchange warranty is common in the water filter market. It is not bad, but I would recommend for the models that are offering limited warranties with lifetime or limited support.
Models like Brondell are offering lifetime free support with a limited warranty. It is satisfying to know that aftercare is available in case of any failure or problem.
Support is also helpful when you begin the installation. They will guide better than the manual. You can explain to them your situation like the type of sinks, faucet, tubes, and hoses you are using.
Look for the deals that are providing aftercare.
Frequently Asked Questions ( FAQs )
1: What is the best countertop water filter?
Top 5 Best Countertop Water Filters of 2021 that removes 99% of toxin and are affordable are:
Big Berkey Gravity-Fed Water Filter
Apex Countertop Drinking Water Filter, Alkaline, Clear (MR-1050)
ESOW Countertop Water Filter, 304 Stainless-Steel
Brondell H630 H20+ Cypress Countertop Water Filter System
Aquasana AQ-4000W Countertop Drinking Water Filter
2: which water filter removes the most contaminants?
Big Berkery, New wave Enviro, Apex, and ESOW countertop water filters are known for their more than 99% water purification features. They remove most of the harmful contaminants found in tap water.
3: Do countertop water filter works:
Their design, installation, and working is simple, but their filtration, water flow, and convenience are flawless. They remove almost all known contaminants found in tap water. The filtered water is delicious and odorless in most units.
4: Are Berkey water filters worth it?
Yes. Berkey filters are cheap compared to other water filters. They remove 99% of the toxins. They can even work on a pond and well water with similar efficiency. Berkey Filters are portable, easy to carry, lightweight, they offer a good flow rate, and they are durable. The hype is real.
5: Why does Berkey water taste bad?
The reason behind the bad rubbery taste in the water is due to the rubber washers fit over the diverter valve. Check the size of the rubber washer, and replace it with a silicon washer. You can easily find that on the internet. The problem of bad smell or taste will be resolved.
6: Should you filter tap water?
Depends on the quality of the tap water. If it's certified and tastes good then you can go for it. But I would want to use a water filter regardless of the top-notch quality of tap water. There are thousands of micro toxins in the water that can cause health problems. I wouldn't take that risk to save some bucks.
Our Final Verdict:
We have researched the online market and offline market to compile a list of the best countertop water filters that are affordable, durable, long-lasting, highly efficient in the filtration process, and much easier to install.
We have also kept the material that is used to manufacture such units in mind because most of the models are made of plastic which leaks BPA material that can severe diseases.
Our suggestion is to purchase a model that works on more than 99% filtration efficiency. All other factors pale in comparison to clean water.
Big Berkey, Apex, Brondell, and Aqauasana are the units that I like on a personal level.
I hope this buying guide and reviews will help you to make a purchasing decision. Thanks for stopping by.