Reverse Osmosis Systems
Countertop Water Filters
Whole House
Filters
Product
Guides
A Complete Guide To Water Filtration
Have you ever wondered why the water from your taps smells like an indoor swimming pool, or why it leaves a milky residue in your kettle, or why your skin feels itchy after a shower?
This is because believe it or not, although deemed as "safe" to drink by the authorities the water you get from the taps in your home, contains extremely high quantities of harsh chemicals, such as chlorine, copper, fluoride and other dissolved toxic metals.
Water should have no taste and no smell. Think about it, if you opened a bottle of expensive shop bought water and it smelt as bad as your tap water you would take it back, wouldn't you? Luckily you don't need to keep wasting your money buying bottles of water that pollute the planet and cost you money.
There are several ways you can filter water and remove harmful toxins. Some are simple and others are much more complicated and expensive.
Below you will find a list of all the water treatment options available. We have tested and reviewed them all for you so that you can decide which is the right setup for you.
Top Reviews And Guides
Water Distillers
Faucet Filters
Fluoride Filters
Portable Water
Refrigerator Filters
Water Softeners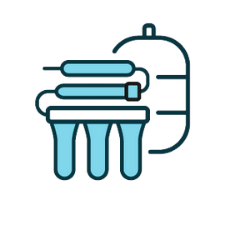 Reverse Osmosis Filters
Under Sink Water Filters
Product Comparisons
Countertop Water Filters
Whole House Filters