5 Tips On How To Remineralize RO Water
Most people would not have ever thought that RO filter water needs to be remineralized or even know what remineralized water was. But, if you use an RO unit to filter your water you need to know "How to remineralize RO water." if you want to get the most benefit from it. Because, RO filters remove the essential minerals along with contaminants, which is why it is recommended to remineralize water after filtration to ensure your body gets all the essential minerals it needs to keep healthy and in balance.
There is no argument that reverse osmosis systems are the most effective ways to filter and purify water. They can completely remove up to 99% of total dissolved solids from water, making them the most popular choice for home filtration.
Water that has been filtered through an RO filter and then remineralized is the safest, cleanest, and healthiest water you can drink.
Although, it is worth noting that some people will argue your body does not need to get its minerals and vitamins requirement from the water we consume because the food we eat has enough minerals and vitamins for your body. But unfortunately, much of the food we eat today is also deficient in minerals.
Top 3 Picks
RO Filter
Home Master TMAFC-ERP
NSF Certified Components
About this item
Modular filter design
Longer lifetime of filters
Natural and fresher tasting water
Chrome faucet
Gravity Water Filter
Big Berkey Gravity-Fed
Best Of Apec
About this item
2.25 Gallons
Stainless Steel
8.5 x 8.5 x 19.25 inches
0.03 Gallons Per Minute Flow
Micron Filter Cartridge
Sediment Home Water
Multi-Layer Density Tech
About this item
Recognized Certification
Polypropylene
10.2 x 10 x 2.8 inches
filter up to 13000 gallons
Why People Remineralize RO water
There are a number of reasons why people choose to demineralized water. NOt everybody is remineralizing for drinking water either, some people think that they must Remineralize RO water for an aquarium or for aquaponics. But let's have a look at the top reasons why people decide to add minerals back into their water.
Minerals: We have mentioned already, that natural foods are fulfilling our minerals requirements. But most people don't eat them properly that's why they choose to remineralize the water. Otherwise, over time deficiencies of essential minerals in the body could cause any number of serious health problems.
Faster Hydration: The de-mineralized filtered water has a lower pH level and will actually absorb salts from the body in order to be absorbed back into the body, strange I know but that is how it works. Adding minerals back into the water prevents this and increases the level of pH. In simple words, this process makes the water easier for your body to absorb.
Taste Matters: Most people will tell you adding the minerals back into the water, is not only healthier for you it also makes the water taste better. It is almost like our taste buds are telling us what is good for the body.
Filtered water is not harmful or dangerous for your health. Quite the opposite, it is far better to have filtered water than water contaminated with heavy metals, toxins, and viruses. And it is not essential to add minerals to your RO filtered water but if you do a little research you may well decide it is the best choice for you and your family.
Hopefully, you are clear now about the reasons why so many people choose to Remineralize the water that comes from their reverse osmosis water filter system.
Before further Ado let's get on with how you can easily remineralize your water at home.
How to Remineralize RO water
There are several ways that you can use to remineralize your RO water. At the end of this article, you will be familiar with 5 easiest methods OF water Remineralization, and you will be confident to try the process yourself.
Let's get into the details
1. Remineralize water with Himalayan salt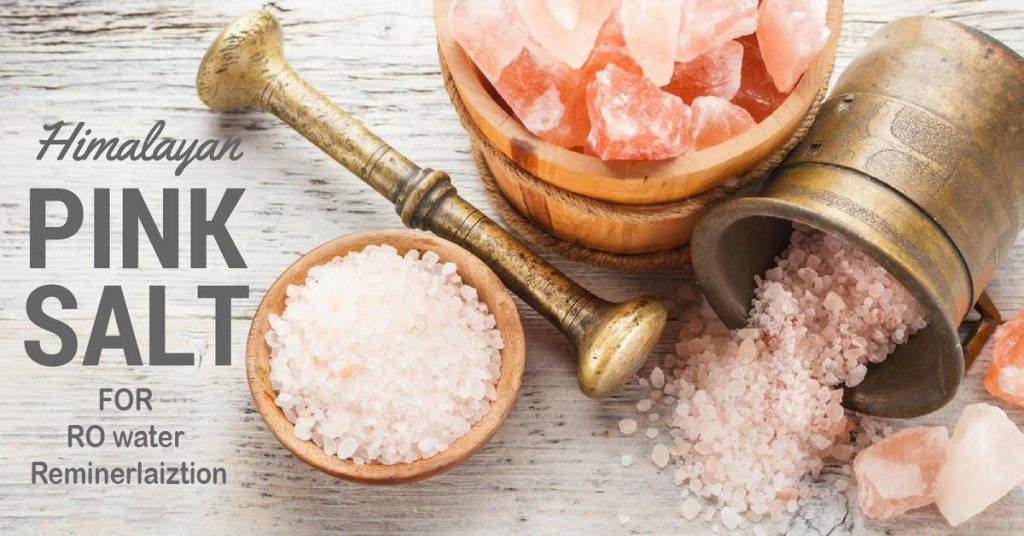 You can find the 84 trace minerals in Himalayan salt, which makes it an easy to find source ingredient for Remineralizing water.
This mineral-rich salt has all the major minerals for your body like calcium, magnesium, and potassium.
You must be aware before remineralizing water with Himalayan salt, that in excess it can be harmful. But, If you are going to be wise and use it sparingly it is a cheap and easy way to render nourishment to your body and neutralize harmful acidity.
Amount to use
Don't add a large amount of Himalayan salt to your water, the idea here is to add back trace minerals to the water, not make it salty, a small pinch in a pitcher of water should be enough. Your taste bud will tell you if you have added too much. You should be able to taste a slight, background salty mineral flavor, but if the water tastes salty, then you have used too much.
Cost
Adding Himalayan salt is one of the cheapest and most cost-effective ways to Remineralize the RO water. It is not going to make a dent in your pocket.
Although cheap and easy, it is not recommended as the best way to remineralize water, so use it in a pinch (pardon the pun) but don't think that it is the only solution. However don't think that adding salt to water is only for demineralization, it has some other additional health uses too. because it also has some advantages other than water Remineralization, including
---
PROS & CONS
Pros
Small amount required to Remineralize the water
Has other uses and benefits too
Improves the taste
Affordability
Cons
Takes time to dissolve
May leave a dirty residue
Not recommended as a permanent solution
---
Where to Buy pink Himalayan Salt
You can easily get it from a nearby supermarket, but if you don't want to drive. You can purchase it from Amazon.
To let you avoid the process of finding the Best Pink Himalayan salt. We have already done the research. You can choose from them as they are getting verified positive reviews and the trust of the customers.
Best On Budget
Neti Pots
Aromatic Salt Premium Ceramic Neti Pot, Green
Best On Budget
Himalayan Salt Therapy
Natural Himalayan Cordless Salt Lamp Rock Crystal Rechargeable(Built-in Battery) Remote Control 15colours Decorative Present for Friend(Multi-Colored)
2. Use Trace Mineral drops for Remineralization
Trace Mineral drops improve the taste of RO water and also has the ability to make the water more alkaline.
Adding Trace minerals in the RO water is one of the fastest and the easiest ways to get trace elements and minerals back into the water. They are also available in the Super Market. The Affordability and ease of this method are why so many people choose this as their preferred method.
How to Use trace mineral drops
The method and amount of trace mineral drop needed to treat your water will vary from brand to brand. This is why it is recommended to read the full instructions on the label before actually using it. For most brands, it is as simple as adding a drop to a glass or a few drops to a pitcher of water.
Cost
There are some methods that will cost you a decent amount of money, thankfully trace element drops are usually very affordable. If you can afford to invest in a quality water filter, what're a few extra dollars to ensure you get the full benefit from the system.
Drops really are an inexpensive and simple way to get the minerals back into your daily diet. The cost depends on the product you choose.
Where to Buy Trace Mineral drops
If you have decided mineral drops are the way to go, then the easiest and most affordable place to buy the drops is from reputable sellers on Amazon. But most people get stuck when it comes to choosing from all the different options available.
So we narrowed it down to the top three Mineral supplement drops for RO Water that you should use.
Mineral Drops to Buy
These three mentioned are the best value high potency trace mineral drops that are ideal for remineralizing water.
Best Overall
Premium Organic Fulvic Acid Trace Mineral supplement
All Natural Organic Plant Derived Blend of Ionic Trace Minerals from Fulvic and Humic Acid Similar to Shilajit
Premium Choice
Organic Trace Minerals by Khroma Herbs
2 oz Liquid Plant-Based Trace Mineral Blend – Designed for Maximum Absorption – 30 Servings
Best On Budget
Trace Minerals Research PGG02
A great-tasting easy-to-mix phyto-nutrient powder, Loaded with energy-packed whole foods super fruits
BEST OVERALL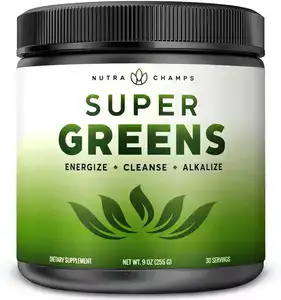 3. Use Green Blends for Remineralization
Made in USA with Premium Global Ingredients. cGMP Quality Manufacturing.
About this item
20+ Organic Green Veggie Whole Foods – Wheat Grass, Spirulina, Chlorella & More – Antioxidant, Digestive Enzyme & Probiotic Blends | Vegan Juice Supplement
Green blend is the fancy term given to a powder of vegetables, herbs, and of other minerals and vitamins. Sometimes referred to as "Super Green blend"
The water produced from the reverse osmosis filter is healthier than any water you get from a faucet. But if you mix it with green blend powder it energizes the drinking water. It can be an acquired taste, but if you can drink the supercharged green water, there is simply no better way to get a complete dose of trace elements and minerals.
When choosing a green blend make sure it is certified organic, you don't want to be putting the nasties you took out of the water back in again.
To be honest, most people don't want to add it to the water, if you can't stand the taste but would still like to get the benefits, then we would suggest you add it to your food, or blend it in a smoothie that way you will still be getting all the minerals, without the taste.
The only downside of this Remineralization process is that it costs more than trace mineral drops and Himalayan salt.
If you are on the budget, you can use the above-mentioned approach. Otherwise, it's the Go to product
4. Alkaline Water Filter
An easy method is to pass the water back through alkaline water filters after the Reverse osmosis system. It can add all the beneficial minerals like calcium, magnesium, and potassium back into the water after the filtration.
Although, it costs relatively more than other ways to Remineralize the water.
But Alkaline water filters are the best option to choose for those who want to get the mineral back into their diet without resorting to green smoothies or salted water.
The following mentioned are the top and affordable alkaline water filters that can be helpful if you have decided to choose this method.
Premium Pick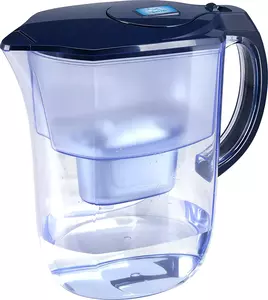 EHM Ultra Premium water pitcher
PREMIUM QUALITY
About this item
3.8L, Activated Carbon Filter- BPA Free, Healthy, Clean, & Toxin-Free Mineralized Alkaline Water in Minutes- Up to 9.5 pH-2020 Model
Budget Best
DRAGONN Alkaline water pitcher
Unique Design
About this item
3.5 Liters, Free Filter Included, Removes Lead, Chlorine, Copper and more, PH 8.5-9.5 Enhanced 2019 Model, DN-KW-WP01
Best Overall
Hskyhan Alkaline water pitcher
large capacity
About this item
3.5 Liters Improve PH, 2 Filters Included, BPA Free, 7 Stage Filteration System to Purify, Blue
5. Install the Remineralization Stage
Most of the best Reverse osmosis systems have an integrated Remineralization stage, which is responsible for adding the minerals back into the water after the filtration process. Home Master TMHP Hydroperfection is one of those filters that already have the remineralization stage in their filtration process.
But you are reading this because you don't have a reverse osmosis system with a remineralizing stage. And you probably don't want to buy an entirely new system just yet, don't worry there is a simple and affordable solution to your problem.
In almost every reverse osmosis system, you can add on an additional Alkaline stage. The process of adding this stage is not intricate or difficult. You can get it done by a professional, but it is easy to do it yourself with a few simple tools.
But we do recommend, if you have never done any plumbing work before, or are completely unfamiliar with reverse osmosis water filter setups, watch a few different videos available on YouTube and read the instructions to avoid mistakes.
If you want an almost hands-off, long-term, and permanent solution, adding an integrated reverse osmosis remineralizing stage to your system is the best option.
It may seem to be an expensive option. But the benefits associated with this approach far outweigh the cost.
The lifespan of the Remineralization filter depends on the product that you choose. Normally, they have a lifespan from 6 to 12 months, depending on the feed water pressure, the temperature the quality.
If you want to have the new reverse osmosis system with the Remineralization stage, Express water would be the perfect budget choice. You can also choose from other Recommended reverse osmosis systems.
Over to You!
Hopefully, these helpful tips have covered your needs, we have explained all the aspects that you should know about the water remineralization process.
If you think that your water needs to be Remineralized, now you can easily choose the Remineralization process that suits you.
Hopefully, now you can easily remineralize your RO water without any hurdles or hassles.
If you have found it useful, do share it with your friends too! 🙂